AC Drive
V20 AC DRIVE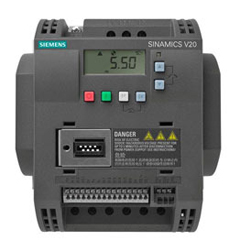 We are deal and service provider of V 20 ACdrives. Sinamics V20 is a simple and cost-effective drive solution.
Voltage and Power range :
1AC 200 V - 240 V, ±10 %; 3AC 380 V - 480 V +10 % / ±15%, 0.12 kW - 15 kW (0.17 HP- 20 HP )
SINAMICS V20 has a compact design, and can be individually adapted to the particular application or user requirements using various options (for example, an external BOP, connecting cable, filter, braking resistors, shielding, ..). The compact and rugged devices are tailored for operating pumps, fans, compressors and convey or belts as well as for basic drive applications in the process and manufacturing industries.
SINAMICS V20 – an overview of its strengths